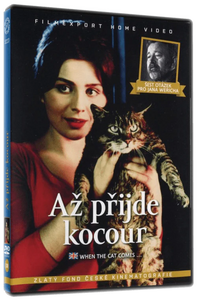 When The (Cassandra) Cat Comes + Six Questions for Jan Werich original DVD with English subtitles
LAST IN STOCK! OUT OF PRINT, SUBTITLED COPY
A perfect family movie for all cat lovers!
Some people with a strange cat arrive in a small village. The cat wears glasses, and when someone takes them off, she can colour people, according to their nature and mood. The grown-ups of the village consider the cat to be dangerous, but the kids just love her...
Six Questions for Jan Werich+Sest otazek Jana Wericha:
A student film directed by a Slovak director Dusan Hanak, is a conversation about life, about the theater and writing, about friendship and trust. Jan Werich recalls Jiri Voskovec and their joint work in the Liberated Theatre.  
1h 31min | Comedy, Family, Fantasy

Region: 0, All regions
Subtitles: Czech, English
1964
Regular DVD case
Shipping within 7-10 days since the payment.