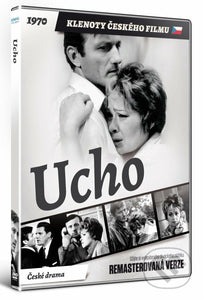 The Ear (Ucho) 1970 Czech film by Karel Kachyna
Husband (senior ministry official) and wife find their house is riddled with listening devices put there by his own ministry. A harrowing night follows (reminiscent of 'Who's Afraid Of Virginia Woolf'), and the resolution is worse than being carted off to jail...  

Original Czech dvd re-release is sealed. 
Original Czech spoken language
Subtitles: English, Czech. 
Regionfree all region Pal dvd comes in a normal dvd case. 
Please check your dvd player compability.