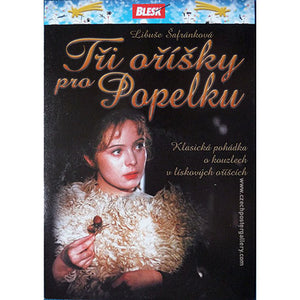 One of the most beautiful and succesful czech fairy-tales, based on fairy-tale Popelka (Cinderella) by Bozena Nemcová, now on digitally restored DVD.
Beautiful, kind and clever Cinderella gains Prince's heart. In this fairy-tale we can hear the well known song "Kdepak ty ptacku hnizdo mas?" (Where do you bird have nest?) by famous czech singer Karel Gott.

Cardboard sleeve DVD 
Length 84 min.
Production Year 1973
Audio Czech
Subtitles English
Format DVD (PAL)
Region ALL
Director Vaclav Vorlicek
Cast Libuse Safrankova, Pavel Travnicek, Rolf Hoppe, Karin Leschova
Please note that remastered version is also available in our shop!