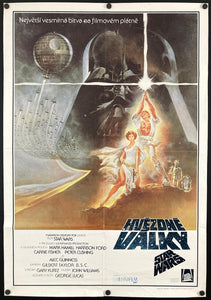 STAR WARS (now known as "Star Wars: Episode IV - A New Hope") Czech Movie Poster
POSTER DATE: 1990
SIZE APPROX: A1 | 22 3/4" x 33" | 58 x 84 cm
MOVIE ORIGIN: USA
POSTER DESIGN: Tom Jung
ORIGINAL TITLE: Star Wars
DIRECTOR: George Lucas
FOLDS: Previously folded
PINHOLES: No
CONDITION: Used, Very good. The poster has been folded by the cinema, it has slight signs of use, a little tear in the bottom fold. Displays very well.

Note the "LUCERNAFILM" branding at the bottom of the poster. Lucernafilm was a Prague movie production company founded in 1912 by Vacslav Havel and kept producing movies even during the Nazi occupation of Czechoslovakia. When the war ended in 1945, the film industry was nationalised and LucernaFilm was renewed only after the revolution in 1989. Star Wars was one of the first posters with LucernaFilm branding on it!
Also note that the Star Wars saga was banned from cinema by communist regime in Czechoslovakia as "Imperialist propaganda" (probably because of real threat of "star wars" between Soviet Union and USA) and the movie could go to the distribution only after the Velvet revolution in 1989.