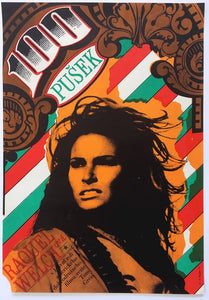 This 100 Rifles original Czech poster is an iconic, vintage piece of artwork. Featuring movie star Raquel Welch flanked by 100 rifles with art by Zdenek Ziegler, this poster is an homage to the cult classic Western movie. An original, it is sure to make any collector proud.
DATE: 1971
SIZE APPROX: A3 16″X11″
MOVIE ORIGIN: USA
POSTER DESIGN: Zdenek Ziegler
ORIGINAL TITLE: 100 Rifles (100 Pušek)
DIRECTOR: Tom Gries
GENRE: Western
ACTORS: Jim Brown, Raquel Welch
FOLDS: Slight fold in upper left corner, not distracting
PINHOLES: No
CONDITION: Very Good - Please note the poster has a paper loss in the bottom left corner. It is otherwise in a very good condition with no pin holes or folds and displays very well!