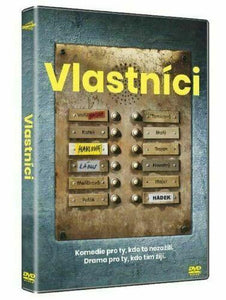 Mrs. Zahrádková has a plan to convince the other co-owners of the flats to finally save the house in which they live together and which is in emergency condition.
Vlastníci je nová česká tragikomedie, většina konverzačního dramatu se odehrává v jedné místnosti, ve které se vlastníci domu snaží domluvit, co s domem bude. Podaří se jej zachránit? Jak už to bývá, někdo má dobrý úmysl, jiný ho deklasuje, dalšímu je to jedno a někdo na tom chce vydělat. Jak ale najít řešení, které bude vyhovovat alespoň většině, když už ne všem?
Režie: Jiří Havelka
Hrají: Tereza Ramba, Vojtěch Kotek, Dagmar Havlová, Jiří Lábus, Pavla Tomicová, Ondřej Malý, Klára Melíšková, Kryštof Hádek, Stanislav Majer, David Novotný, Andrej Polák, Ladislav Trojan, Jiří Černý, Maria Sawa, Halka Třešňáková
Region : 2
Video: 16:9
Sound: Czech Dolby Digital 2.0
Subtitles : English, Czech
Minutes : 92 min
PLEASE CHECK YOUR DVD PLAYER COMPATIBILITY.