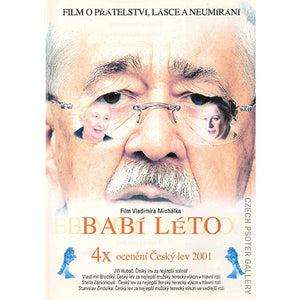 BABÍ LÉTO belongs to 100 best films to see on Rotten Tomatoes!
What does it mean to age gracefully? For 75-year-old Frantisek "Fanda" Hána, it means something other than what most other elderly people do. Fanda has no intention of giving in to the loneliness, despair and indignities of a typical retirement. Fanda never bends from his feisty personal philosophy, despite a barrage of constant badgering from his wife, Emílie, who continually tells him he needs to start taking life seriously. Unlike her husband, Emílie is careening towards the end of her life, driven by an obsession with saving enough money to pay for her meticulously-planned funeral and burial arrangements. In defiance of such fatalistic practicality, Fanda spends much of his time with his friend, Eda, to keep engaged with life to the fullest.

Original Czech dvd release is new.
Spoken language: Czech
Subtitles: English, Czech
Region: Free, All region, PAL
Cover: Environmental friendly harcover sleeve. The picture may slightly vary.