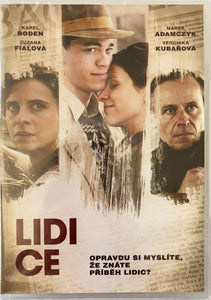 Lidice DVD with subitles
Story is based on the infamous massacre in the Czech village of Lidice in central Bohemia. Lidice was exterminated and burnt by Nazis in retaliation for the assassination of Reinhard Heydrich in June 1942. However, Lidice is not a classic war movie, but a psychological drama based on the true story of a man who survived the massacre.
Original Czech dvd release is new and sealed.
Original Czech spoken language
Subtitles: ENGLISH, French, German, Spanish and Czech.
Region: 2 Europe
Cover: Regular DVD case
Please check your dvd player compability!