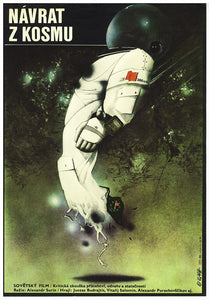 Smashing Vintage Cinema poster from Soviet era in Czechoslovakia

Stunning art by Zdenek Vlach with a signature.

DATE: 1984
SIZE APPROX: A3 | Medium | 16″X11″ |
MOVIE ORIGIN: Soviet Union
POSTER DESIGN: Zdeněk Vlach (Signature)
ORIGINAL TITLE: Vozvrascheniye s orbity
DIRECTOR: Alexandr Surin
GENRE: SCI-FI
FOLDS: Slightly visible horisontal bend
PINHOLES: No
CONDITION: V-G/Fine (rolled)

This poster is 100% original print from the date of release in Czechoslovakia. It is not a copy or reprint.
It is almost 40 years old, but it is very well preserved and it will be an incredible piece of cinema history on your wall!
Zdeněk Vlach
Born 21st of March 1942 in Prague, died 13th of July 1999 in Prague. Graphic artist, illustrator, set designer and art director. Studied at the School of Arts in Prague (1964–1966; did not complete his studies). Has exhibited both independently and collectively from the 1960s.
Over the years 1970–1989 created two hundred-three film posters ). Award winning posters: 1977 award from the magazine The Hollywood Reporter (The Mens´ Summer); 1982 Gold Medal of the International Film Festival in Chicago (Agony).