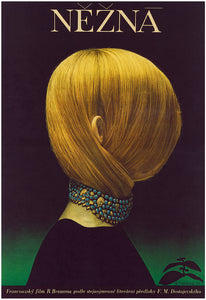 The most famous original Czech movie poster 
for
Robert Bresson's
film
Une Femme Douche
(Gentle Creature) is back in our collection!
Please note this is an extremely rare cinema poster (the winner of the 1973 Cannes International Film Festival Grand Prix for the best poster) in excellent condition. It is the first time we have seen this poster in such an archival condtiton without any tears, folds, finger prints or othe imperfections within the image.
POSTER DATE: 1970
POSTER SIZE APPROX: A3 | 11 1/4" x 16" | 29 x 41 cm | Medium Czech
MOVIE ORIGIN: France
POSTER DESIGN: Olga Poláčková-Vyleťalová
ORIGINAL TITLE: Une Femme Douce (Něžná)
DIRECTOR: Robert Bresson
FOLDS: Never folded
PINHOLES: No
TEARS: No
CONDITION: Near Mint/Mint
Olga is one of the most significant author of Czechoslovakian film posters. She created dozens of them. She got famous thanks to the iconic poster for Robert Bresson's film Une Femme Douche (Gentle Creature), even though she personaly doesn't particularly like that one (and even though the author of the original image that she took her inspiration from is a fashion and celebrity photographer Ben Stern famous for photographs of Sue Lyons wearing heart-shaped sunglasses on the set of Stanley Kubrick's Lolita that became the iconic poster for the film). You can read an interviev with her in our blog here.