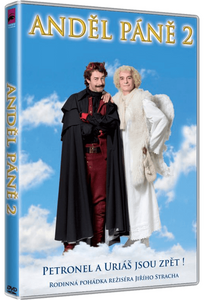 Petronel, an angel, is still working at the Heaven's gates but is confident that he deserves a better function. His everlasting tempter Uriah, a devil, takes up tempting him. All one has to do to know all that God knows is pick an apple from the tree of knowledge. And then, the route to the well-deserved acknowledgment is free. Petronel and Uriah than proceed to argue about the apple, ant the results are catastrophic...
Product Details BOX
Length 99 min
Production Year 2016
Audio Czech
Subtitles Czech, English, Italian, Russian
Format DVD (PAL)
Region 2
Director Jiri Strach
Cast Ivan Trojan, Jiri Dvorak, Vica Kerekes, Anna Ctvrtnickova, Jiri Bartoska, Bolek Polivka, Vojtech Dyk, Stanislav Majer, Pavel Liska, Marek Taclik

Note for US costumers: It might not play on some US DVD players, Multi-Region and Multisystem PAL/NTSC DVD player is required, Please check your DVD player compatibility!