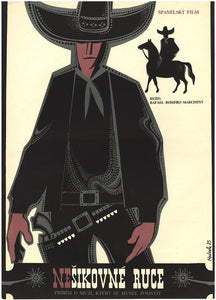 Amazing Original Vintage Czech Film Poster
Cool image of cowboys and the horse by Mrazek!

Manos torpes (released in the U.S. as "Awkward Hands"), the 1970 Rafael Romero Marchent Spain/Italian cowboy western melodrama starring Peter Lee Lawrence, Alberto De Mendoza, Pilar Velazquez, Aldo Sambrell, Luis Induni, and Frank Brana

DATE: 1975
SIZE APPROX: A3 | 16″X11″ | 42X30cm | Please contact me for exact measurements
MOVIE ORIGIN: Spain
AUTHOR: Mrázek (signature)
ORIGINAL TITLE: Manos torpes
DIRECTOR: Rafael Romeo Marchent
GENRE/SPECIAL INTEREST: Western
FOLDS: No
PINHOLES: No
CONDITION: V-G/Fine
This poster is 100% original print from the date of release. It is not a copy or reprint.