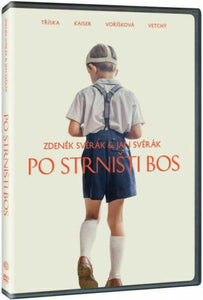 Po strňišti bos / Barefoot (Comedy/Drama)
Mladá městská rodina se musí přizpůsobit novému prostředí a také soužití pod jednou střechou s tetou a jejími příbuznými, což zahrnuje i velmi přísného dědečka. Eda má před sebou nelehký úkol: najít a obhájit své místo v místní klukovské partě, jejíž svět je naprosto odlišný od jeho městského. Svět dětí a dospělých se sbíhá v hledání odvahy a hrdinství. I v nelehkých dnech války.
Year of Production 2017
Length : 111 min.
Format DVD.
Region : 2 Europe, Japan, Middle Eas

Audio : DD 5.1 Czech .Subtitles,
Czech,English

Video : 16:9 Widesreen

DVD : Box Sealed
Director : Jan Sverak
Actors : Ondřej Vetchý, Tereza Voříšková, Alois Grec, Jan Tříska, Viera Pavlíková, Oldřich Kaiser, Zuzana Stivínová, Hynek Čermák, Petra Špalková, Zdeněk Svěrák, Sebastian Pošmourný, Miroslav Hanuš, Petr Brukner, Miroslav Táborský.
Important information for US customers: may not be played on some DVD players in the US NTSC system, Plays a DVD PAL with areas and a multisystem.