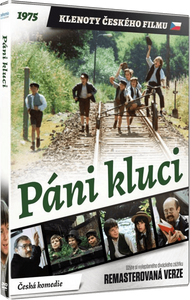 Boys Will Be Boys - Pani kluci Remastered official Czech DVD release with subtitles. ✓ A perfect family movie for a rainy day.

Three friends - Tomas, Hubert and Jozka - are boys growing up in a little town. Tomas lives with his aunt Apolena (Iva Janzurova) and uncle Vaclav (Karel Augusta), who holds every job title at the little railway station, although in fact both the station and the household are run by energetic Apolena. Tomas is a boy with lots of ideas that often end up getting him into trouble not only with his teachers and aunt, but with the other inhabitants of the town as well. He has a crush on his schoolmate Blanka and for her sake he decides to try and get the prize for the best pupil in the school - an illustrated copy of Old Bohemian Legends.

Length 87 min.
Production Year 1975
Audio Czech
Subtitles English, Czech
Format DVD (PAL)
Region ALL

Director Vera Plivova-Simkova
Cast Michal Dymek, Petr Vorisek, Petr Stary, Magda Reifova, Jitka Chalupnikova, David Vlcek, Bohumil Luxik, Iva Janzurova, Karel Augusta, Josef Somr, Petr Narozny
Note for US costumers: It might not play on some US DVD players, Multi-Region and Multisystem PAL/NTSC DVD player is required, Please check your DVD player compatibility.