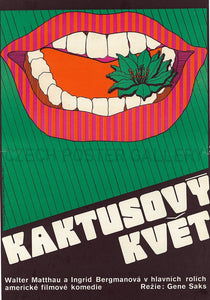 DATE: 1976
SIZE APPROX: A3 16″X11″
MOVIE ORIGIN: USA
POSTER DESIGN: Olga Crvna
ORIGINAL TITLE: Cactus Flower
FOLDS: This poster have been folded after printing, but stored flat.
PINHOLES: No
CONDITION: V-G

There might be slight tattering along the edges, slightly visible fold in the middle, minimal tears along the edges. The poster survived in pretty good condition and will display well!

This poster is 100% original print from the date of release. It is not a copy or reprint.