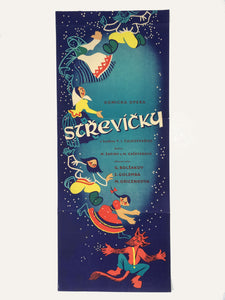 Absolutely stunning and extra rare vintage film poster for classic Soviet Russia Fairy tale Cinderella (Золушка) from 1947. The poster is from 1949 for the release in former Czechoslovakia!

DATE: 1949 (Czechoslovakia)
SIZE APPROX: "Noodle" | 34″X11″ | 87X29cm 
MOVIE ORIGIN: Soviet Union, DIRECTOR: Nadezhda Kosheverova STARRING: Mikhail Shapiro
AUTHOR: Unknown
FOLDS: 3 horisontal folds
CONDITION: Very Good, displays very well!

Please note this poster is from 1949 and survived in a pretty good condition. It has only a little amount of tattering and tiny tears along the edges. It displays very well!
Also note, that this poster size is called a "Noodle" and is far more difficult to find Czechoslovakian poster of this size!