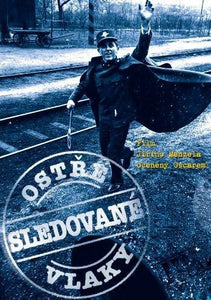 Closely Watched Trains - Ostre sledovane vlaky Academy Award winner for best foreign movie on DVD

The story is set during the World War Two. Every day the transports of German arms are crossing the station where Milos works. When he meets an experienced woman who initiates him into the intimate life, he throws a train with the arms into the air.

Product Details 
Packaging Cardboard sleeve
Length 89 min.
Production Year 1966
Audio Czech
Subtitles Czech, English
Format DVD (PAL)
Region ALL (no restriction)
Director Jiri Menzel
Cast Vaclav Neckar, Jitka Bendova, Vladimir Valenta, Libuse Havelkova, Josef Somr, Alois Vachek, Jitka Zelenohorska, Vlastimil Brodsky, Ferdinand Kruta, Kveta Fialova, Nada Urbankova, Jiri Menzel, Vaclav Fiser, Karel Hovorka, Frantisek Husak, Jiri Kodet

Note for US costumers: It might not play on some US DVD players, Multi-Region and Multisystem PAL/NTSC DVD player is required, Please check your DVD player compatibility!