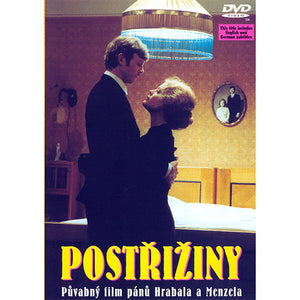 Postřižiny - Cutting it short DVD
Oscar nominated Jiri Menzel's classic masterpiece!

...Perhaps the only film that will make you salivate. Yes, for a glass of Czech beer, a plate of pork and beautiful Magda Vášáryová. It's a fond look at the lives of writer Bohumil Hrabal's parents in pre-war Czechoslovakia — father a put-upon brewery manager, mother sensual and flirtatious — and his eccentric, Švejk-like Uncle Pepin, who arrives uninvited and doesn't leave.
There's a lot of smiling and larking about, in and around the small-town brewery that was their home, and even those suffering injuries as a result seem to laugh at them. Utopian and nostalgic maybe, but why not? Nowadays we'd call it "feelgood". And that horse pissing — unscripted, surely (!) but the actors cope and director Jiří Menzel leaves it in to add to the mayhem.
Spoken language: Czech
Subtitles: English, Czech
Aspect ratio: 4:3
Region: Free, All region, PAL
Cover: Environmentally friendly cardboard sleeve.
Shipping in: bubble wrap or hardcover MANILA envelope for extra protection! Please note: the cover picture may vary