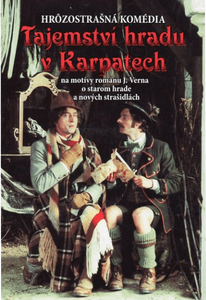 The Mysterious Castle in the Carpathians (Tajemstvi hradu v Karpatech) Czech comedy film DVD with subtitles
In the Carpathian Kingdom there is a mysterious castle. It's owner is baron Gorc from Corc. He ordered a very strange machine, through which can be provided ilusion of reality.
Product Details PAPER SLEEVEPackaging
Paper sleeve
Length
95 min.
Production
Year
1978
Audio
Czech
Subtitles
English
Format
DVD (PAL)
Region
All 
Director
Oldrich Lipsky
Cast
Michal Docolamsky, Evelyna Steimarova, Vlastimil Brodsky, Milos Kopecky, Rudolf Hrusinsky