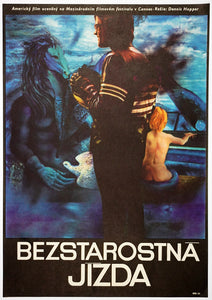 Awesome psychedelic Artwork for American classic Easy Rider
Extremely rare, great condition!

DATE: 1971
SIZE APPROX: A3 | 16″X11″
MOVIE ORIGIN: USA
AUTHOR: Josef Vyletal
ORIGINAL TITLE: Easy rider
DIRECTOR: Dennis Hopper
ACTORS: Jack Nicholson, Dennis Hopper
GENRE/SPECIAL INTEREST: Road movie, Drama, American classic
FOLDS: No
PINHOLES: No
CONDITION: Near Mint, poster in excellent condition!

Did you know: Author was forced by communist officials to remove an American flag from Peter Fonda's jacket, so he covered it by a motorbike smoke. The movie didn't go to the distribution in the end and was released only after the Velvet revolution in 1990.