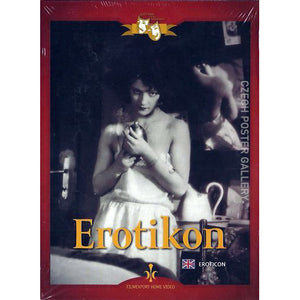 A groundbreaking sex scene and innovative imagery lift Gustav Machatý's largely forgotten silent melodrama!
A rural railway stationmaster's virginal but obviously curious daughter is sexually initiated by a lothario stranded at the depot by a fierce storm. Their love scene contains no nudity; you barely know the guy is there. But the sequence pulses with erotic energy, with its close-ups of the girl's gasping, glowing face, shaky point-of-view shots of her bedroom walls and, finally, the image of two drops of water sliding down her windowpane, merging into one.
This, mind you, in a silent film released in 1929. Erotikon's plot is melodramatically standard: Left pregnant, Andrea (played beautifully by Slovene actress Ita Rina) marries another man and moves to Prague, only to encounter her former lover and recover her former lust. But the film's expressionistic imagery and nonjudgmental approach to sexual desire (especially female sexual desire) lent it an avant-garde tinge. (Surrealist writer Vítězslav Nezval had an uncredited hand in the screenplay.) Largely forgotten amid the international sensation Machatý's taboo-busting Extase wrought three years later and thought lost for decades, Erotikon stamps its maker as the first real artist to emerge from the Czech cinema. Not an easy film to find, but very much worth seeing if you get a chance.
Enthusiastically received in the time of its establishment both by the critics and the previewing performances audience.
The original negative of Erotikon was not preserved, only a few shorted versions existed – in the length of about 1,800 – 1,900 metres. The original footage was 2,760 m according to the censorship records. In 1989, the film archive bought from private collector Milan Volf a copy on the nitrate base whose footage amounted to 2,221 m. According to the analysis, it was an original distribution copy from the end of the twenties of the last century, containing among others seventy metres sequence, missing in all preserved films.
Despite a considerable damage, it was chosen as a basic of restoration with regard to the other materials (copies from Russian Gosfilmofond, from Belgium, German sound version from 1933). The final length after the restoration is 2,365.7 m.
The music for the new presentation on which participated the French Institute in Prague and the Louvre Museum Auditorium in Paris was written by Jan Klusák. The premiere took place in Prague´s Archa theatre in 1994.
One year later, the film was presented in the National Theatre in Prague as the most important part of the Czech celebration of the 100 anniversary of the world cinematography. Its presentation in Louvre started a series of performances in different Europe and North America countries.
Original Czech dvd release is new and sealed.
Spoken language: None
Subtitles: English, Czech
Region: Free, All region, PAL
Cover: Digipack