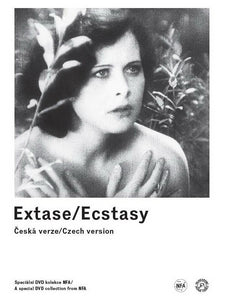 Extase 1932 - new 2016 version released by the Czech National Film Archive - the best version available!
Also Known As
Symphony of Love
Argentina Extasis
Austria Ekstase
Austria Symphonie der Liebe
Bulgaria (Bulgarian title) Екстаз
Brazil Êxtase
Germany Symphonie der Liebe
Spain Extasis
Finland Hurmio
France Extase
Greece Ekstase
Greece (reissue title) Ekstasis
Hungary Eksztázis
Italy Estasi
Netherlands Extase
Poland Ekstaza
Portugal Êxtase
Sweden Extas
Soviet Union (Russian title) Экстаз
USA Ecstasy
USA (reissue title) My Ecstasy
USA (reissue title) Rhapsody of Love
Venezuela Extasis
West Germany Ekstase
World-wide (English title) Ecstasy
Eva has just gotten married to an older gentleman, but discovers that he is obsessed with order in his life and doesn't have much room for passion. She becomes despondent and leaves him, returning to her father's house. One day while bathing in the lake she meets a young man and they fall in love. The husband has become grief stricken at the loss of his young bride, and fate brings him together with the young lover that has taken Eva from him.
Ekstase (released in the U.S. in 1936 as "Ecstasy"), the 1933 Gustav Machaty Austrian/Czechoslovakian romantic melodrama ("Now! It can be shown!"; "The Most Talked of Picture in the World Today!"; "International prize winning motion picture"; "The most whispered about picture in the world..."; "A Bold Story of a Delicate Subject!"; "The Stark Naked Truth of a Woman's Desire for Love!"; "Daring! Revealing! Shocking!"; "Filmed in secrecy!"; "The naked truth of a woman's emotions laid bare!"; "Recommended for adults only!"; "When a woman's love is fulfilled!") starring Hedy Lamarr (billed as "Hedy Kiesler", which was her real name!), Aribert Mog, Zvonimir Rogoz, Leopold Kramer, Emil Jerman, and Pierre Nay. Note that Hedy Lamarr had made four previous movies in her native Austria before she appeared nude in this, her fifth movie, and created a worldwide sensation! She married a rich German manufacturer, who attempted to buy up all the prints of the movie, to no avail. In 1937, she divorced her husband and moved to Hollywood, where she was renamed Hedy Lamarr, and she immediately became a major star. She lived a long and eventful life, and entire books can (and have) been filled with her exploits! In 1940, when she was a major Hollywood star, "Ecstasy" was shown throughout the United States, mostly in midnight shows, and it continued to be shown throughout the 1940s and early 1950s in limited releases around the country.

DVD includes extras, including interviews and archival footage.
Original Czech dvd release. 
Subtitles in ENGLISH and Czech. 
Regionfree all region Pal dvd comes in a sealed digipack case. 
Please check your dvd player compability.