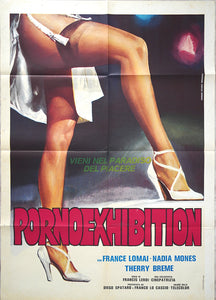 This rare Italian one-panel poster from 1978 features unique Ferrari artwork depicting a pair of seductive legs for the film Pornoexhibition.
This is the poster for Fella, a 1978 French sexploitation movie directed by Francis Leroi and released under the title "Pornoexhibition" in Italy. The film stars notable actors and actresses, including Theirry De Brem (credited as "Therry Breme"), France Lomay (credited as "France Lomai"), Nadia Santes (credited as "Nadia Mones"), Max Douchin, and Dominique Saint Clair. The poster is a vivid and provocative depiction of the film's themes and style, sure to catch the eye of vintage exploitation cinema enthusiasts.
Measures 39" x 55" (99 x 140 cm)
The poster has been previously folded and will be shipped folded. It is in a good condition and will display very well!