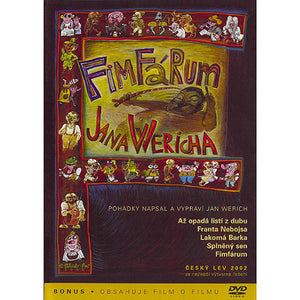 FIMFARUM JANA WERICHA
AMAZING ANIMATED STORIES!
The film Fimfárum retells five fairy tales written by renowned actor and writer Jan Werich, whose work can be found on the bookshelves of almost all Czech children. These stories, which are equally entertaining for adults as they are for children, parody human fate and vices such as greed, maliciousness and excessive indulgence of alcohol.
True to the spirit of Jan Werich, who was a keen observer of human nature, the fairy tales always finish with a moral instruction and a humorous declaration about people and life.
This excerpt gives a sense of what hides behind Werich's curiously named book and film Fimfárum.
The film continues a rich tradition of Czech puppet film. Through their craftsmanship, designers Petr Poš and Marin Velíšek have been able to perfectly capture the personalities of individual characters. Vlasta Pospíšilová and Aurela Klimt's directing and script give Werich's art a magical, visual humor. Each of the fairy tales is narrated by Jan Werich himself. After the success of the first film, the creators filmed a continuation in Fimfárum 2. Creator: Jan Werich. Script: Jiří Kubíček, Aurel Klimt. Designer: Petr Poš, Martin Velíšek. Director: Vlasta Pospíšilová, Aurel Klimt.
This movie is animated just like Chicken Run and the dwells in the five stories, fairy-tales-not-for-children you might call them - "When the leaves fall from oak" is about a villager Cupera who drinks much and therefore he makes deals with the Devil. The first for the "thing he doesn't know he has at home". Of course a boy-baby. By a pretty trick he saves his son but starts drinking anew. The second is about his drinking - Hell is really convincing treatment for alcohol abusers! The second story is "Fearless Frankie" about a young guy who doesn't know how to fear and tries to learn. The third - "Mean Barbara" (better translation would be Miserly Barka) is a pure comedy from a small town. The fourth, shows a man addicted to lottery who believes his dreams might tell him the right numbers. They didn't but, as a paradoxon, the others' will help him to become rich. The last one is indescribable and is called "FIMFARUM", which doesn't have any meaning until...Original Czech dvd release. Original Czech spoken language, subtitles in ENGLISH and languages mentioned above. 
Original Czech dvd release
Original Czech spoken language
SUBTITLES: ENGLISH, ITALIAN, GERMAN, SPANISH, FRENCH, RUSSIAN, POLISH, CZECH
Please note that the delivery time for this item might be up to 7 working days.