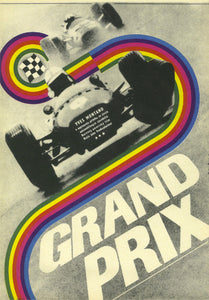 Amazing original film poster from Czechoslovakia. Extra rare, for fantastic price, perfect art investment!

Grand Prix, the 1967 John Frankenheimer Cinerama Formula 1 (F1) automobile car racing sports melodrama ("All the glamour and greatness of the world's most exciting drama of speed and spectacle!"; "Cinerama sweeps you into a drama of speed and spectacle!"; "YOU are inside the cars... Inside the glamour capitals of the world... Inside the loves and lives of the men and women who belong to the great adventure of Grand Prix!") starring James Garner, Jessica Walter, Brian Bedford, Yves Montand, Eva Marie Saint, Toshiro Mifune, Antonio Sabato, and Francoise Hardy (billed as "Introducing Francoise Hardy"). Also featured were racing legends Phil Hill, Graham Hill, Dan Gurney, Jack Brabham, Jim Clark, and Bruce McLaren!

POSTER DATE: 1968 (Czechoslovakia)
SIZE APPROX: A3 | 16″X11″ | 42X30cm | Please contact me for exact measurements
MOVIE ORIGIN: USA
AUTHOR: Eva Galová – Vodrážková
ORIGINAL TITLE: Grand Prix
DIRECTOR: John Frankenheimer
GENRE/SPECIAL INTEREST: Formula One
FOLDS: No
PINHOLES: No
CONDITION: Near Mint, poster in excellent condition!