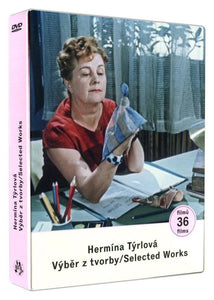 Hermína Týrlová was a prominent Czech animator, screen writer, and film director. She was often called the mother of Czech animation. Over the course of her career, she was the first to produced over 60 animated children's short films using puppets and the technique of stop motion animation.
36 films on 3 DVD with English subtitles 
Available within 10 working days.
Režisérka a animátorka Hermína Týrlová (1900–1993) patří mezi nejvýznamnější osobnosti české animace

 2. poloviny 20. století. Souznění s dětskou fantazií a schopnost přiblížit se světu nejmenších
diváků zařadilo většinu jejích snímků mezi mezinárodně ceněné klenoty světové animace. Její svět
animovaných hadříků, vlněných vláken, skleněných korálků a dřevěných hraček dodnes podněcuje
imaginaci diváků, kteří ještě neztratili zvídavost a zájem kreativně objevovat své okolí.
DVD 1: Objevování možností loutky
Discovering the possibilities of a puppet
• Ferda mravenec/Ferda the Ant (1944)
• Vzpoura hraček/The Revolt of the Toys (1947)
• Uzel na kapesníku/The Knot in the Handkerchief (1958)

DVD 2: Loutka nejen v pohádkách/Puppets not only in fairy tales
• Zlatovláska/Goldilocks (1955)
• Míček Flíček/Spotted Ball (1956)
• Kalamajka/Kalamajka (1957)

DVD 3: Inspirace materiálem/ Inspired by various materials
• Kulička/A Marble (1963)
• Vlněná pohádka/Woolen Story (1964)
• Ferda v cizích službách/Ferda the Ant in Foreign Service (1977)
a mnoho dalších/and many others...
Bonusy:
• Hermína Týrlová/Hermína Týrlová → režie/directed by Jan Iván (1961)
• Já tomu říkám nedrcat se o nebesa H. Týrlová/ I Call It Not Bumping My Head against the Sky
→ režie/directed by Hana Pinkavová (1978)
Společné vydání Národního filmového archivu,
Nadačního fondu FILMTALENT ZLÍN a Zlín Film
Festivalu.
Formát obrazu: 4:3
Zvuk: DD2.0
Titulky: české pro neslyšící, české, anglické
Region: ALL/PAL