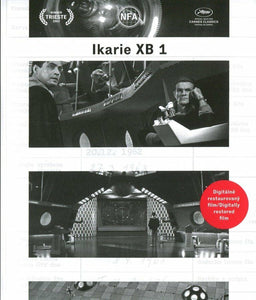 Please note: This is the best possible version of this movie available. Forget about the computer-coloured, dubbed and cut foreign releases - this the original Czech film in it's original, uncut version with subtitles. Aspect ratio 2.35:1 and original 2.0 soundtrack by Zdenek Liska!

It's 2163. The starship Ikaria XB 1 embarks on a long journey across the Universe, to search for life on the planets of Alpha Centauri.

A giant spaceship carrying colonists to a new planet runs into unexpected troubles on its journey, ranging from encounters with abandoned alien craft to malfunctioning onboard computers and tensions among its crew and passengers.

IKARIE XB-1 is one of the most compelling science fiction films ever made. Filmed in very Cold War era Czechoslovakia and rarely seen in North America in it's complete widescreen form, this is a movie that was so ahead of it's time that only 2001: A SPACE ODYSSEY managed to raise the bar above what was set here with it's meticulous depiction of outer space vehicles in action.

DVD includes lots of Czech language extras !
88min.
Original Czech dvd release is new and sealed.
Original Czech spoken language
Subtitles in ENGLISH, French and Czech.
Regionfree all region Pal dvd comes in a digipack dvd case.
Please check your dvd player compability.