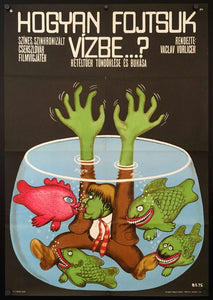 Beautiful film poster for Czechoslovakian romantic fantasy comedy Jak Utopit Dr. Mracka (How To Drown Dr. Mracek, The Lawyer) [Hogyan fojtsuk vízbe], directed by Vaclav Vorlicek and starring Libuska Safrankova, Jaromir Hanzlik, Frantisek Filipovsky, Vladimir Mensik and Milos Kopecky.
The poster neasures 22 1/2" x 32" [57 x 81 cm]
It has been fully folded and it is in a very good condition and displays very well.
Czech: Madarsky plakat pro Cesky film Jak utopit doktora Mracka ze serie zahranicni filmovy plakat pro Cesky film.