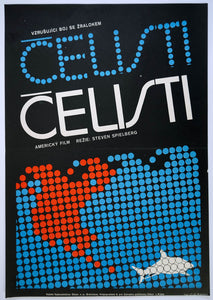 This rare "JAWS" poster is sure to make a splash in your collection! This Czech First Release original features all the bloody goodness of the classic Steven Spielberg film.  So, get to chompin' and add it to your wall!
The very first poster design of JAWS for cinemas in former Czechoslovakia (Czech republic).
"American film"
"Exciting Battle With A Shark"

Bloody rare!

FILM: JAWS
POSTER DESIGN YEAR: 1976
SIZE APPROX: A3 | 16″X11″
MOVIE ORIGIN: USA
AUTHOR: Fischerova Olga
DIRECTOR: Steven Spielberg
FOLDS: Yes, the poster has two horisontal folds, one above another in the middle area*
PIN HOLES: No
CONDITION: Used, Very Good. The poster displays very well.

*Many posters have been folded after printing or at the cinema.