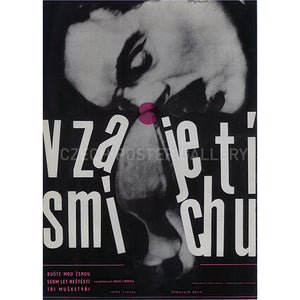 For the first time ever, film buffs can view Seven Years of Bad Luck, entertainer Max Linder's 1921 comedy, along with a handful of short films and excerpts collected here, accompanied by a score devised from music of that period. Known for his unmistakable slapstick style that influenced many comedians, including such luminaries as the Marx Brothers, Linder plays for laughs using a broken mirror frame as a prop.
DATE: 1964
SIZE APPROX: A3 16″X11″
MOVIE ORIGIN: France
AUTHOR: Zdeněk Ziegler

ORIGINAL TITLE: En Compagnie de Max Linder

DIRECTOR: Maud Linder

GENRE/SPECIAL INTEREST: Slapstick comedy

FOLDS: No
PINHOLES: No
CONDITION: Fine

This poster is 100% original print from the date of release. It is not a copy or reprint.