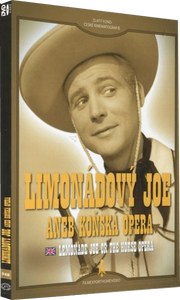 Lemonade Joe or Horse Opera/Limonadovy Joe aneb konska opera Czech Western Parody on DVD with subtitles

Legendary film directed by Oldrich Lipsky is one of the most popular Czech film comedies where men drink only administrative kolalok spirit-free lemonade and the law takes the form of a gunman, equipped with a precise aim, a bright smile and a delicious tenor.
Product Details DVD
Length 96 min.
Production Year 1964
Audio Czech, English
Subtitles Czech, English
Format DVD (PAL)
Region ALL
Director: Oldrich Lipsky
Cast: Karel Fiala, Rudolf Deyl ml., Milos Kopecky, Kveta Fialova, Olga Schoberova, Bohus Zahorsky, Josef Hlinomaz, Karel Effa, Waldemar Matuska, Eman Fiala, Vladimir Mensik, Jiri Lir, Jiri Steimar, Karel Gott
Note for US costumers: It might not play on some US DVD players, Multi-Region and Multisystem PAL/NTSC DVD player is required. Please check your DVD player compatibility.