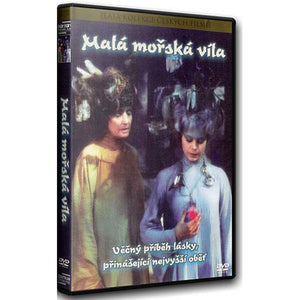 MALÁ MOŘSKÁ VÍLA
Karel Kachyňa's classic
Starring Libuška Šafránková (Three wishes for Cinderella) and her sister Miroslava Šafránková!
THE GREATEST LOVE STORY EVER...
PLEASE NOTE: THIS FILM WAS NOT RELEASED WITH ENGLISH SUBTITLES, but the film language, music and customes are so beautiful, that you don't need to understand the "human" language. We sold many of these around the world, and the message is always the same: "Thank you, we did not miss the subtitles. The story speak for itself!"
Czech filmmaker Karel Kachnya's 1976 Malá Morská Víla (The Little Mermaid) is a unique take on the Hans Christian Andersen fairytale. Disregard any preconceived notion that this is a schmaltzy Disney-esque film though; it is a tragic tale of identity, doomed love and self sacrifice. The startlingly realised underwater kingdom in which most of the story unravels was actually filmed in a lime quarry, with moody lightning, camera trickery, striking costumes and the actors' movements combining to create the submerged underwater feel. Most of the film takes place in this effectively conveyed undersea space as the little mermaid (Miroslava Safránková) becomes more inquisitive about the world above the waves. Eerie blue lighting, dark caverns that drip fire, icy-white statues of marine maidens with billowing sea-webs for hair and haunting cemeteries full of dead sailors, are but some of the unearthly beautiful images that swirl throughout the film.
Original Czech dvd release.
Czech spoken language,
Subtitles in Czech.
Region: Free, All region Pal dvd
DVD case: Regular
Please check your dvd player compability.