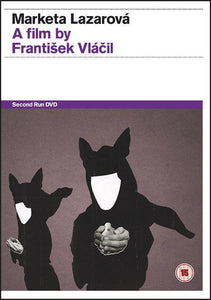 Marketa Lazarova DVD with English subtitles, Second Run edition.
Voted the best Czech film ever made, Marketa Lazarová is a powerful and passionate medieval epic set in the mid-13th Century. Based on avant-garde writer Vladislav Vancura's novel, it follows the rivalry between two warring clans, the Kozlíks and the Lazars, and the doomed love affair of Mikolás Kozlík and Marketa Lazarová.

Re-creating an authentic world and as reminiscent of Tarkovsky and Kurosawa as it is of the rich tapestry of Czech fiction, this ambitious and multi-layered film is the crowning achievement of Vlácil's career and one of the undiscovered cornerstones of world cinema.

This is the first-ever DVD release of Marketa Lazarová anywhere in the world.
Czechoslovakia 1967
Length / Main Feature: 159 minutes
Sound: Original mono (restored)
Black & White
OAR: 2.35:1 16x9 Enhanced
Language: Czech
Subtitles: English On/Off
PAL R0  
Release Date: 3rd Dec 2007
Second Run DVD 017