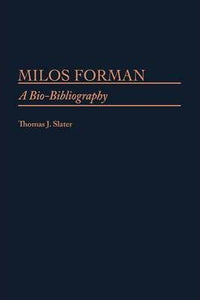 Milos Forman : A Bio-Bibliography | Book about one of the most famous Czech movie directors.
This book is the most comprehensive study to date of the work of Milos Forman, best known for his Academy Award winning direction of One Flew over the Cuckoo's Nest (1975) and Amadeus (1984). The work begins with a brief biography that emphasizes the relationship for Forman's life to his philosophic and artistic development. The major portion of the work consists of a critical filmography with annotations based on the author's direct study, and an annotated bibliography with an introductory essay.
Hardback | 206 pages

152.4 x 228.6 x 16mm | 471.74g

18 Jun 1987

Greenwood Press

Westport, United States

English

Annotated

Annotated edition

0313253927

9780313253928
This item will be shipped separately from your DVD order.