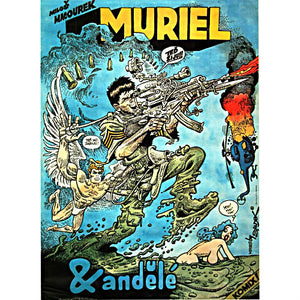 Original Czech poster
Fantastic Karel Saudek art!

DATE: 1991
SIZE APPROX: A2 
AUTHOR: Karel Saudek
ORIGINAL TITLE: Muriel a andělé
GENRE/SPECIAL INTEREST: Comics
FOLDS: No
PINHOLES: No
CONDITION GRADE: Fine
Muriel a andělé (Muriel and Angels) is a comic album written by Miloš Macourek and drawn by Kája Saudek, originally created in the late 1960s and published in 1991. The album is considered one of the masterworks of Czech comics; it was voted the best Czech comic in a poll held by the newspaper Mladá fronta DNES in 2009.
Muriel and Angels tells the story of a young physician Muriel Ray and her friend Ro, a winged angel who came to Earth from a distant future. The communist censorship considered the story potentially dangerous and banned its publishing. Saudek's style was considered as too "American", some of his critics labelled his work as an example of bourgeois kitsch. The complete cycle was published later, in 1991. 
The main character was inspired by the Czech film star Olga Schoberová, and the main antagonist, militant general Ian Xeron, was inspired by Saudek's twin brother, photographer Jan Saudek.