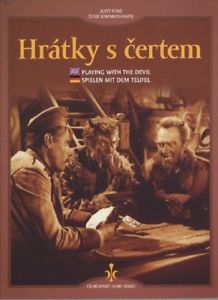 Playing with the davil, Spiel mit dem Teufel (Hratky s certem) Czech DVD with subtitles

A popular Czech fairy tale about devils, princesses and heroes.

Length 95 min.
Production Year 1956
Audio Czech
Subtitles English, German, Czech
Format DVD (PAL)
Region All 

Director Josef Mach
Cast Josef Bek, Eva Klepacova, Alena Vranova, Frantisek Smolik, Jaroslav Vojta, Bohumil Zahorsky, Stanislav Neumann, Frantisek Filipovsky, Josef Vinklar, Ladislav Pesek, Vladimir Raz, Rudolf Deyl ml.