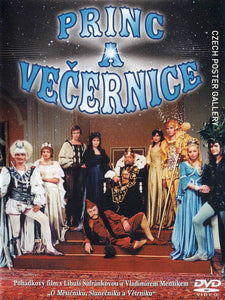 STARRING LIBUSKA SAFRANKOVA! (Three wishes for Cinderella)
A wonderful fairytale about looking for love, defeating evil and learning some valuable moral lessons on the way. The story begins with the young Prince, who is left in charge of the castle and his three sisters. During the night he has a visitation and before he knows it, all his sisters are married off and gone away, and the Prince is faced with the King's wraths and charged with a quest. Although the special effects may seem a bit dated, they in no way detract from the enjoyment of this movie. It is full of humor and more dramatic than the very popular and lovely Three Wishes for Cinderella. (The beautiful Czech actress Libuše Šafránková is in both movies.)
The movie is truly beautiful. Czech fairy tale story's like this have been unfortunately out of producing. Same happen to all eastern Europe co - productions like this. All kids and generations from mid 1950 to present kid generations in Europe loving this Czech fairy tale movies. Princ a Vecernice..actually made 1979 was especially scored with beautiful music from the great, outstanding, master - tastefully Czech composer Svatopluk Havelka. Special the string charts on his film music score are truly jazz influenced in harmony style, sound and orchestration. The sound remind me to actual productions found on popular scores from Argentine composer - arranger Jorge Calandrelli. The film had beautiful costume outfits and living most from good - humorous dialogues and acting and even not overwhelming - bigger than live special effects. The movie is a must for lovers of Czech - European fairy tale movies and European fairy tale stories!
Spoken language: Czech
Subtitles: English, Czech
Aspect ratio: 4:3
Region: Free, All region, PAL
Cover: Environmental friendly hardcover sleeve.