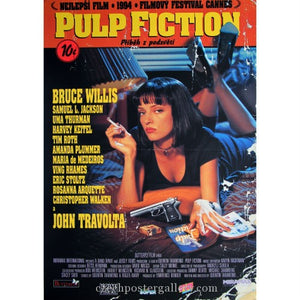 This original poster for Quentin Tarantino's Pulp Fiction was produced to advertise the movie in Czech cinemas.
POSTER DATE: 1994
SIZE APPROX: A3 16″X11″
MOVIE ORIGIN: USA
ORIGINAL TITLE: Pulp fiction
DIRECTOR: Quentin Tarantino
GENRE/SPECIAL INTEREST: Thriller, Action, American classic
FOLDS: No
PINHOLES: No
CONDITION: Fine
This poster is 100% original print from the date of release. It is not a copy or reprint.