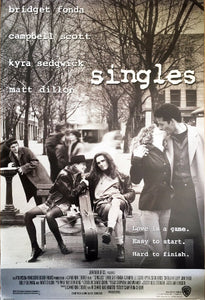 Singles - Large Original 90's poster "Printed in U.S.A" for Cameron Crowe's Seattle movie starring Jane Fonda, Eddie Vedder & Pearl Jam, Soundgarden, Alice in Chains. A classic 90's movie about the Seattle scene packed with great music and sense of humour.

Measures: 27" x 40 1/4" [69 x 102 cm]

Condition: Very Good

Please nothe that this is a double-sided poster. From the 1990s on, movie posters were often made in double-sided versions (for use in light boxes).