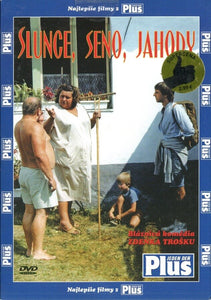 Sun, Hay, Strawberries (Slunce, seno, jahody) Czech classic comedy on DVD with subtitles

Slunce, seno, jahody is a Czech comedy film made in 1983, usually regarded as one of the classics of the Czech comedy industry. Written and directed by Zdeněk Troška. A Czech agricultural student, Šimon Plánička, arrives at the small South Bohemian town of Hoštice, and joins the local JZD (agricultural co-op) with the intention of trying out his experiment regarding the "Milk yield of cows in regards to a cultured environment". He runs into difficulty with the directorship of the JZD, but he finds them eager to help once they hear he's the son of the local agricultural commissioner, as his last name is also Plánička. Blažena Škopková is given the task of finding out how things are looking. However everything is complicated by the jealousy of Blažena's boyfriend Venca.
Product Details Paper Sleeve
Packaging Paper Sleeve
Length 83 min
Production Year 1983
Audio Czech
Subtitles Czech, English
Format DVD (PAL)
Region ALL

Director Zdenek Troska
Cast Helena Ruzickova, Stanislav Triska, Erna Cervena, Veronika Kanska, Bronek Cerny, Pavel Kikincuk, Martin Sotola, Miroslav Zounar, Jaroslava Kretschmerova, Jiri Labus, Pavel Vondruska, Vaclav Troska, Marie Pilatova, Marie Svecova, Vlastimila Vlkova, Ludek Kopriva, Jirina Jiraskova, Petra Pysova
Note for US costumers: It might not play on some US DVD players, Multi-Region and Multisystem PAL/NTSC DVD player is required. Please check your DVD player compatibility.