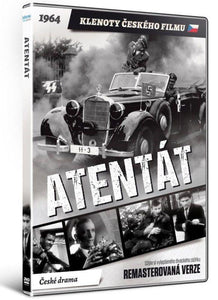 Atentát, a thrilling Czech 1964 movie filmed at the actual site of Reinhard Heydrich assasination. Also includes footage from Heydrich's funeral in 1942.
English subtitles | Lengh: 98min. | ALL REGION PAL | Black & White 
Original Czech dvd release is new. May not be sealed by manufacturer.
Regionfree all region Pal dvd comes in a sealed normal dvd case. 
Please check your dvd player compability.