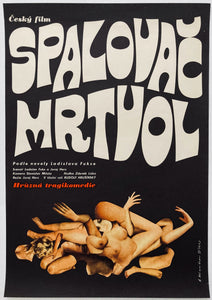 Original 1968 ultra-rare vintage film poster for Juraj Herz's horror The Cremator.
Czechoslovak New Wave iconoclast Juraj Herz's terrifying, darkly comic vision of the horrors of totalitarian ideologies stars a supremely chilling Rudolf Hrušínský as the pathologically morbid Karel Kopfrkingl, a crematorium manager in 1930s Prague who believes fervently that death offers the only true relief from human suffering. When he is recruited by the Nazis, Kopfrkingl's increasingly deranged worldview drives him to formulate his own shocking final solution. Blending the blackest of gallows humor with disorienting expressionistic flourishes—queasy point-of-view shots, distorting lenses, jarring quick cuts—the controversial, long-banned masterpiece The Cremator is one of cinema's most trenchant and disturbing portraits of the banality of evil.
You can read more about The Cremator in our film review here. 
POSTER DATE: 1968
SIZE APPROX: A3 16″X11″
MOVIE ORIGIN: Czechoslovakia
AUTHOR: Antonin Dimitrov
ORIGINAL TITLE: Spalovac mrtvol
DIRECTOR: Juraj Herz
GENRE/SPECIAL INTEREST: Czechoslovak New Wave, Psychological horror
FOLDS: No
PINHOLES: No
CONDITION: Fine