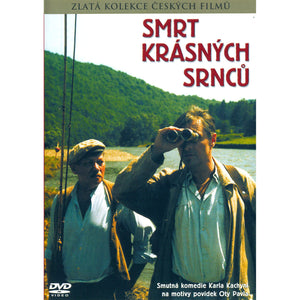 The Death of the Beautiful Roebucks (Smrt krasnych srncu) Czech DVD with subtitles. A film by Karel Kachyna (Little Mermaid)

"The Death of the Beautiful Roebucks" is a story of a man from Prague who becomes the most successful vacuum cleaner salesman in Europe. It is based on the autobiographical book written by one of the most fascinating and at the same time tragic Czech writers - Ota Pavel. Major character of the book, and the movie, is Ota's father as seen by the author, then only a little boy. The father is a wonderful, tragicomic antihero who treats his life like a big challenge. His petty pleasures, small tricks and warm attitude win the hearts of the audience immediately.
The father has three true passions he vigorously follows and these are: fishing, conquering beautiful women and, taking care of his own family. Perhaps the set looks rather peculiar, but the father really convincingly takes care of all three of them… Giving up too many details would spoil the pleasure of watching (and hopefully also reading) the story, but a small episode is worth of mentioning. At some point the father buys a pond, apparently full of fish, for a considerable amount of money. Some time later the father invites his boss, colleagues, family to a party during which the pond is to be drained and all the fish caught. While the band on the shore especially invited for that very occasion plays the last song, a single fish emerges in the net… Yet this is just the beginning of the story…
Yes,the story has serious parts too. It is about the war and the Holocaust,yet it is exceptional. Even during most serious parts the movie does not cease to be a sad fairy tale blended with subtle, warm grotesque.
The Roebucks really are beautiful and they do play an important part in the movie. So do the Czech tragicomic attitude towards the world outside and, even more, the Czech stories.
Spoken language: Czech
Subtitles: English, Czech
Region: Free, All region, PAL
Cover: Cardboard sleeve