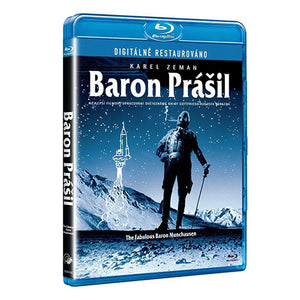 The Fabulous Baron Munchausen Blu-ray
The Fabulous Baron Munchausen (Baron Prášil 1961) - English subtitled, digitally remastered Blu-ray
The outrageous Baron Munchausen tells of his many adventures, from meeting the Man in the Moon to defeating a Turkish army all by himself. 
Probably the most charming of the filmic adaptations of Raspe's 'Baron Munchausen". Czech animator Karel Zeman creates a wonderland by combining live actors, animated models, and old prints to relate the Baron's marvelous adventures. A tour de force of the visual imagination.

The brand new 2016 release includes extras subtitled in English.