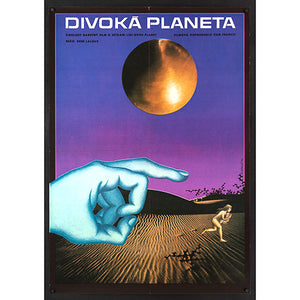 Original Czech movie poster for

René Laloux's Fantastic Planet (La Planète sauvage).
A beautiful surreal and rare version of a poster from Czechoslovakia by Alexej Mrazek.
"Fantastic Planet" (or "Planete sauvage" in French) is a 1973 French-Czechoslovakian animated science fiction film directed by Rene Laloux. The movie is set in a distant future where human beings are treated as pets or pests by a race of giant blue humanoid aliens called Draags. The story follows a young human boy named Terr who tries to escape his captivity and incite a revolution among his people. The film is known for its surreal visuals, intricate soundtrack, and thought-provoking themes of oppression and cultural clash.
POSTER DATE: 1975
SIZE APPROX: A1 | Large Czech | 33″X24″
MOVIE ORIGIN: France, Czechoslovakia
AUTHOR: Mrazek Alexej
ORIGINAL TITLE: La Planète sauvage, Divoka planeta
DIRECTOR: René Laloux
GENRE/SPECIAL INTEREST: Animation, Fantasy, Sci-fi
FOLDS:
Note that this poster was folded at one time but has been laying flat for a long time and will be sent rolled in a tube.
PINHOLES: No
CONDITION: Very good
Please note this poster will be shipped within 10 days from cleared payment.