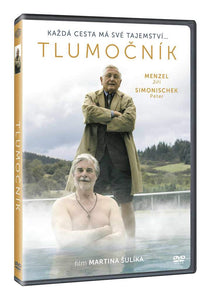 The Interpreter - Tlumocnik Czech DVD
80-year-old Ali Ungar comes across a book by a former SS officer describing his wartime activities in Slovakia. He realises his parents were executed by him. He sets out to take revenge but finds instead his 70-year-old son, Georg, a retired teacher. Georg, who had avoided his father all his life, decides to find out more about him and offers Ali to be his interpreter. The two old men, in everything opposite, embark on a bittersweet journey to meet surviving witnesses of the wartime tragedy. They discover a country eager to forget its past. They realise their memories are fragments mixed with their imagination and interpretation. They connect in silence and manage to discover their own identity.
Product Details 
Length 109 min
Production Year 2018
Audio Czech, German 
Subtitles Czech, Slovak
Format DVD (PAL)
Region 2
Director Martin Sulik
Cast Jiri Menzel, Peter Simonischek, Zuzana Maurery, Reka Derzsiova, Anna Rakovska, Eva "Evelyn" Kramerova, Attila Mokos
Note for US costumers: It might not play on some US DVD players, Multi-Region and Multisystem PAL/NTSC DVD player is required, Please check your DVD player compatibility.