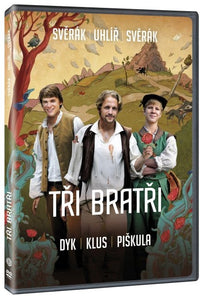 We really enjoyed watching this fairytale from Academy winner Jan Sverak (Kolya). Surprisingly funny, witty and even psychedelic! Official Czech DVD with subtitles.
Three brothers (Vojtech Dyk, Tomas Klus and Zdenek Piskula) leave their home to see the world. During their journey, young men as by miracle enter into famous fairy tales (Little Riding Hood, Sleeping Beauty, Twelve Months) and face traps, unexpected moments and even love in a story full of humor and songs. Script and music of new fairy tale are based on popular musical theatre play Miniopers by famous duo of screenwriter Zdenek Sverak and composer Jaroslav Uhlir.

Length 87 min.
Production Year 2014
Audio Czech
Subtitles Czech, English
Format DVD (PAL)
Region 2 (Please check your player compatibility if you live in USA!

Director Jan Sverak
Cast Vojtech Dyk, Tomas Klus, Zdenek Piskula, Sabina Rojkova, Katerina Kosova, Oldrich Kaiser, Gabriela Micova, Jiri Labus, Zdenek Sverak, Zuzana Norisova, David Matasek, Lucie Maria Stouracova, Ivana Chylkova, Alena Dolakova, Kamil Halbich, Jan Holik, Jitka Cvancarova, Miroslav Taborsky, Bolek Polivka, Oldrich Vlach, Miroslav Vladyka