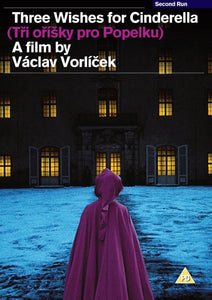 Three Wishes for Cinderella (Tři oříšky pro Popelku) DVD
Feature: 84 minutes / Extras: 37 minutes
Language: Czech / Subtitles: English
Region: 0
Original Aspect Ratio: 1.33:1 full frame
Audio: 1.0 Mono (restored)
BBFC cert: PG
DVD Special features:
• Presented from a brand new 4k digital restoration from original materials, supervised by the Czech National Film Archive.
• A new, expansive and exclusive filmed appreciation by writer, editor and film historian Michael Brooke
• 16-page booklet featuring a new essay by fantasy film critic and historian Tim Lucas.
• Original theatrical trailer and 2015 re-release trailer.
• New and improved English subtitle translation.