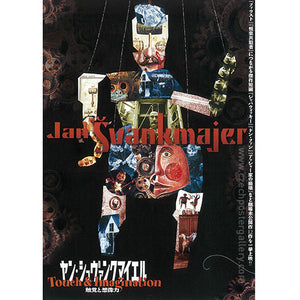 Original Japanese Chirashi flyer
This beautiful rare chirashi is  for Jan Svankmajer's retrospective.
EXTRA RARE!

SIZE APPROX: 10″X7″
BOOK ORIGIN: Czech republic, UK

ORIGINAL TITLE: Hmat a imaginace

AUTHOR: Jan Svankmajer
FOLDS: Never folded
PINHOLES: No
CONDITION: Near Mint, excellent condition
'Chirashi' is the Japanese word for a flyer or handbill, found in japanese cinemas to promote movies.
The name is derived from the verb 'chirasu' – to scatter, distribute, disperse.
In most cases, chirashi represents creative re-invention of original poster design.
They are printed in a very limited number, so some of them are very hard to find, especially the ones for Czech movies.