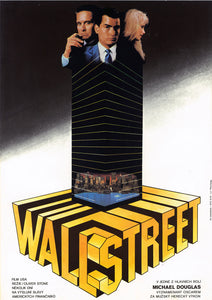 Vintage Original Movie Poster from cinemas in Czechoslovakia (unframed) for Wall Street.
DATE: 1987
SIZE APPROX: A3 | 16″X11″ | 42X30cm | Please contact me for exact measurements
MOVIE ORIGIN: USA
AUTHOR: Jan Tomanek
ORIGINAL TITLE: Wall Street
DIRECTOR: Oliver Stone
ACTORS: Charlie Sheen, Michael Douglas
FOLDS: Slight bend in the middle, hardly visible
PINHOLES: No
CONDITION: Fine, poster in excellent condition!
This poster is 100% original print from the date of release. It is not a copy or reprint.